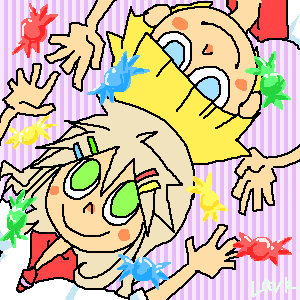 So I'll be writing my college apps this coming fall and I'll be working on them all summer. Now I'm pretty sure my top choices would in in-state colleges in California so I won't have to pay the insane out-of-state tuition and stuff, but I'm leaving all the doors open. So what I'm trying to say...
Know any reputable/famous/faaabulous colleges in Canada? In the big cities?
Hahaha I really don't know much about any colleges out of the US (or out of California, except for those crazy east coast ivy leagues that I'll never get into anyways) so educate me.
Well I've been doing nothing productive, since I have exams these last 2 weeks of school (and projects, and SATs this weekend ugh). Well okay.
I've also been playing Hotel Dusk. Not as good at the Ace Attorney series in terms of humor, but pretty good. I'm a sucker for mystery games. And it can get pretty scary at times (I found a gun in the laundry cart!! Aaahhh!!).
I CAN'T WAIT TILL SCHOOL GETS OUT JUNE 12
PEACE OUT, YOU COOL JELLY BEANS